Return to Service Award Gifts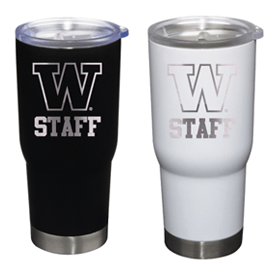 W Staff Stainless Steel Tumbler
15 Years
This vacuum insulated stainless steel bottle holds 22 ounces and displays W STAFF on the side. It's available in black or white.
This item is made-to-order and shipped from the manufacturer directly to the recipient so cannot be gift wrapped.
All made-to-order purchases are non-returnable or exchangeable, and University Book Store is unable to accommodate cancellations once an order is placed. If you receive defective merchandise, or are sent the wrong item(s), please contact huskyweb@ubookstore.com.