Disability Staff and Faculty Association (DSFA)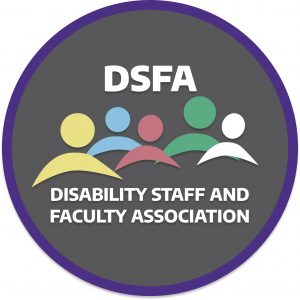 The UW Disability Staff and Faculty Association (DSFA) is launching in the 2023-2024 academic year to support our vibrant community for faculty and staff who identify as disabled, D/deaf, chronically ill, Mad, neurodivergent, or experiencing mental health concerns. Allies of the disability community are also welcome. Join us in building a supportive environment that honors disability as an important part of diversity.
Our mission
By fostering community connections and offering vital resources, together we can cultivate empowerment and belonging for all.
Our aim is more than mere inclusion; it's about creating a culture that elevates diverse experiences and perspectives. We center the social model of disability and adhere to the principles of disability justice, disability culture, disability allyship, and disability gain. We consider disability, neurodivergence, and chronic health and mental health concerns as valuable facets of diversity.
Our objectives
To address the underrepresentation of individuals with disabilities in higher education, their lower likelihood of degree completion, and the broader challenges they face—including economic hardship and poor health outcomes—we aim to enrich our workplace through:
Inclusive Design: Advocate for the adoption of inclusive design principles across the UW campus.
Diverse Representation: Ensure that disabled-identifying staff and faculty, including those with complex intersectional identities, feel supported and celebrated.
Community Building: Foster a robust, welcoming community through role models and varied support mechanisms.
How we operate
We appreciate that accessibility means different things to different people. That's why we plan to offer a mix of synchronous and asynchronous meetings in both virtual and in-person formats, always centering on the access needs of our members. These options provide you with multiple avenues to engage, participate and cultivate a sense of community.
Get involved
DSFA is gearing up for an exciting inaugural year in the 2023-24 academic calendar. This autumn quarter, we're making our formal introduction to the UW community. Whether you're interested in joining as a member or stepping into a leadership role, we invite you to complete this interest form. Questions? Email us at dsfa@uw.edu.
The DSFA is not just an affinity group; it's a movement towards a more equitable and compassionate University of Washington. Your voice and your experiences enrich us all. Join us on this journey to reshape the UW community for the better.
The launch team
A small team of faculty and staff began working in 2022 to establish DSFA as an official UW employee affinity group. Meet the team.