UW Combined Fund Drive
Black Lives Matter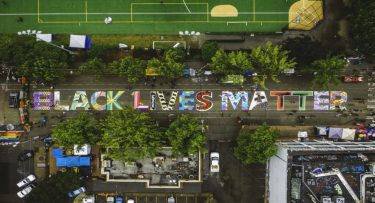 The UW Combined Fund Drive stands in solidarity with Seattle's black community, the Black Lives Matter movement and beyond.
We believe that communities are stronger when everyone is healthy, strong and stable. We know our community suffers when anyone lives in fear of violence and injustice and we need to do better, especially by the people of color in our country. We are listening to and stand in support of those who are advocating for change.
We will continue to listen with open minds, rise together for action and serve humanity to be our best selves.
When asked about organizations our employees could support through workplace giving, we found our program guilty of unconscious bias that we are working to correct.
At the top of the list below are nonprofits that are currently part of the Combined Fund Drive. The next group of nonprofits have all been invited and we hope they will join our program soon. As we welcome new organizations to the CFD, we will update our lists.
Every gift makes a difference. If you don't see the organization you're looking for on the list, let us know. We'll work to get them added to the UW Combined Fund Drive.
Help support the fight against racial inequality and offer solidarity to communities of color.
Nonprofits currently part of the CFD
ACLU of Washington – https://www.aclu-wa.org/ – UWCFD Charity Code – 0316142
The ACLU works to ensure the rights and privileges provided by the Constitution are available to every single person in this country.
Community Bail Funds – https://communitybailfund.org/ – UWCFD Charity Code 1482097
Donating is an easy way to support protestors nationwide. The site equally divides your donation between 38 community bail funds or allows you to allocate a desired amount to each fund.
Equal Justice Initiative – https://eji.org/ – UWCFD Charity Code – 1482073
EJI has been fighting racial and economic injustice in the prison system for 30 years and provides assistance to advocates and policymakers to prevent unfair incrimination.
NAACP's Legal Defense and Educational Fund – https://www.naacpldf.org/ – UWCFD Charity Code – 0316271
The NAACP's Legal Defense and Educational Fund uses litigation, advocacy, and public education to work towards racial justice and equality for all Americans. The organization is fighting to protect voting rights, reform the criminal justice system, and improve equal access to education, among other civil rights causes.
The Opportunity Agenda – https://www.opportunityagenda.org – UWCFD Charity Code – 1482906
The Opportunity Agenda is a social justice communication lab that works to advance the impact of the social justice community. We believe that opportunity should be full and equal and that greater opportunity for all benefits everyone.
Southern Poverty Law Center – https://www.splcenter.org/ – UWCFD Charity Code – 0316284
From monitoring hate groups to seeking justice for vulnerable people and educating youth on the value of diversity, the Southern Poverty Law Center is doing the work to fight hate and systemic bigotry in this country.
Nonprofits who have been invited to participate in the CFD
Black Futures Lab – https://blackfutureslab.org/
The Black to the Future Public Policy Institute will work with Black organizers from across the country to advance a just response for Black communities in the face of a health pandemic and economic disaster.
Black Lives Matter – https://blacklivesmatter.com/
Black Lives Matter was founded in the wake of Trayvon Martin's murder back in 2013, and has been fighting for structural, community-based change ever since, advocating for an end to the violence and injustice inflicted on Black people in the US.
Black Lives Seattle – https://blacklivesseattle.org/Black Lives Matter Seattle-King County is a grassroots, volunteer-run, social-justice nonprofit organization focused on the empowerment and liberation of Blacks and other people of color through advocacy and direct action
Campaign Zero – https://www.joincampaignzero.org/#vision
This group, founded in 2015, is dedicated to police reform and works with a 10-point plan aimed at reducing violence. It's always been an important cause but feels especially urgent now.
Center for Policing Equity – https://policingequity.org/
Center for Policing Equity's work continues to simultaneously aid police departments to realize their own equity goals as well as advance the scientific understanding of issues of equity within organizations and policing.
Color of Change – https://colorofchange.org/
We help people respond effectively to injustice in the world around us. As a national online force driven by 1.7 million members, we move decision-makers in corporations and government to create a more human and less hostile world for Black people in America.
The Committee to Protect Journalists – https://cpj.org/
The Committee to Protect Journalists is a lifeline for members of the media to continue pursuing their important reporting at a time when the freedom of the press is under siege.
The Movement for Black Lives- https://m4bl.org/
The Movement for Black Lives (M4BL) was created as a space for Black organizations across the country to debate and discuss the current political conditions, develop shared assessments of what political interventions were necessary in order to achieve key policy, cultural and political wins, convene organizational leadership in order to debate and co-create a shared movement wide strategy.
The National Black Justice Coalition – http://nbjc.org/: The National Black Justice Coalition (NBJC) is a civil rights organization dedicated to the empowerment of Black lesbian, gay, bisexual, transgender, queer and same gender loving (LGBTQ/SGL) people, including people living with HIV/AIDS. NBJC's mission is to end racism, homophobia, and LGBTQ/SGL bias and stigma.
NW Community Bail Fund – https://www.nwcombailfund.org The Northwest Community Bail Fund provides cash bail for marginalized people charged with crimes who are unable to afford back and find themselves incarcerated while awaiting routine court appearances in King and Snohomish Counties in Washington State.