UW Combined Fund Drive
2022 featured nonprofit: Médecins Sans Frontières (MSF)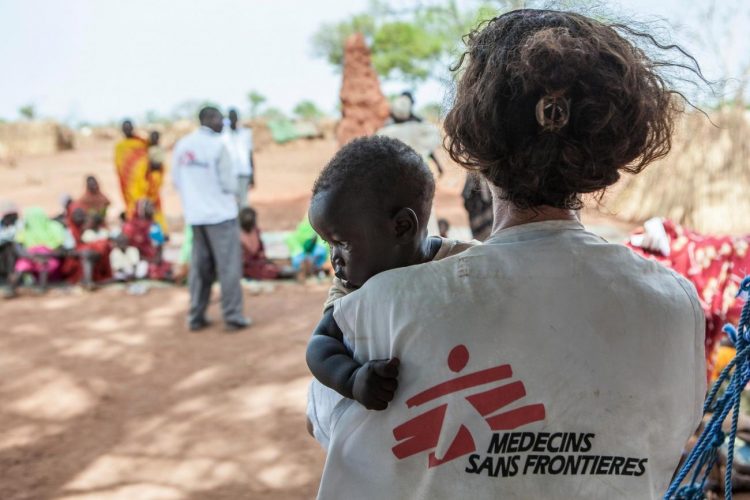 Each year, the UWCFD spotlights a nonprofit organization doing amazing work to make our communities – locally, nationally and globally – healthier and more resilient. 
We are delighted to announce that the 2022 featured nonprofit is Doctors Without Borders/Médecins Sans Frontières (MSF).
MSF is an independent and neutral organization offering medical humanitarian assistance around the world.
Guided by medical ethics and principles of impartiality, they serve victims of war, disease and natural disasters without regard to race, nationality, gender, religion, or political affiliation.
"UW employees have done such a great job supporting our local community the last two years and the UWCFD is so excited to share the work of Doctors Without Borders," said UWCFD campaign manager Jolyn Mason. "MSF has such a positive impact in the global community and we know UW employees will love learning more about them."
Though we refer to the organization by both its French name and English translation, we use their preferred acronym, MSF, acknowledging its global recognition and brand
Some humanitarian crises gain international attention while others happen under the radar. One example of the former is the 2010 Haiti earthquake– a magnitude 7.0 temblor that killed more than 100,000 people, displaced more than a million and destroyed much of the country's already fragile health system.
MSF, who already maintained a long-term presence in the country, mobilized one of their largest ever emergency responses, treating more than 350,000 people in the aftermath of the quake. Read about MSF's continued involvement in Haiti, 10 years after the quake.
Nobel Peace prize winners
In 1999, MSF was awarded the Nobel Peace Prize "in recognition of the organization's pioneering humanitarian work on several continents."
Founded in France in 1971 by thirteen doctors and journalists in response to famine in Nigeria, MSF has grown into a worldwide organization with 45,000 staff working in more than 70 countries each year.
MSF may be best known for their quick responses to acute crises, like the Haiti earthquake, but many of their resources are spent on long-term work in numerous countries. This involves vaccination programs, addressing disease outbreaks like ebola and malaria, assisting people living in conflict zones, and providing for the basic needs of those displaced from their homes.
Get involved
The UWCFD looks forward to educating our UW community about MSF's far-reaching impact in the places where help is most needed.
Attend an event: We'll be updating our calendar with MSF events open to the UW community as we hear of them.
Volunteer: Join the national volunteer pool, and be contacted about opportunities, by completing this online form.
Donate: Consider making a one-time gift or setting up monthly payroll deduction through the UWCFD to MSF (charity code 0315935).
Fundraise: UWCFD will partner with a variety of UW departments and units this fall hosting events to fundraise for MSF. Check our calendar for updates or contact us to find out what's coming up!
Learn more: Learn about how, why, and where MSF teams respond to different diseases around the world, and the challenges they face in providing treatment in areas such as maternal health, malnutrition, and antibiotic resistance.
---
Past UWCFD featured nonprofits include Low Income Housing Institute, Northwest Harvest, Summit Assistance Dogs and Be The Match. Each organization has enjoyed increased visibility as a result of being featured, as well as a boost in one-time and annual donations from UW employees.
---
Additional CFD organizations addressing global humanitarian assistance:
UNICEF (charity code 0315489): is a special program of the United Nations (UN) devoted to aiding national efforts to improve the health, nutrition, education, and general welfare of children.
Project Hope (charity code 0316050): We operate globally, working side-by-side with health care workers and their communities, addressing the greatest public health challenges enabling people to live their best lives.
American Red Cross International Services (charity code 0338058): helps vulnerable individuals and communities around the world to prevent, prepare for, and respond to disasters, complex humanitarian emergencies, and life-threatening health conditions.
Americares (charity code 0315518): has a mission to save lives and improve health for people affected by poverty or disaster so they can reach their full potential.
Catholic Relief Services (charity code 0315527): Rushes food, clothing, shelter, water and comfort to God's most vulnerable children effectively and efficiently in times of disaster and provides the means to self-sufficiency.
International Medical Corps (charity code 1479246): works in conflict areas around the world and is raising money for a campaign to help provide humanitarian relief to the people of Ukraine affected by the war.
Global Impact (charity code 0316711): is a federation of nonprofit organizations inspiring greater giving to foster critical humanitarian development throughout the world.
CARE (charity code 0315522): Started in 1945 delivering CARE Packages to war-torn Europe. Today, working around the globe to save lives, defeat poverty and achieve social justice.
Save the Children (charity code 0315475): Save the Children does whatever it takes every day and in times of crisis transforming childrens lives and the future we share.