UW Combined Fund Drive
Do Good, Feel Good
The Combined Fund Drive is UW's workplace giving program for staff, faculty and retirees.
Thank you to our donors and volunteers who made a difference for our communities during our 2021 annual campaign. With your support, we raised $1,958,811 to support nonprofits, locally, nationally and around the world.
Did you know? Since 1984, UW employees have donated nearly $58 million to local, national and international nonprofits.
It's not too late to donate! The UWCFD is here year-round. You can make new gifts, change existing gifts or find new ways to engage with your favorite – or your next favorite – nonprofit any time you want.
Support your favorite causes all year long by giving to any of more than 4,700 nonprofits in the CFD.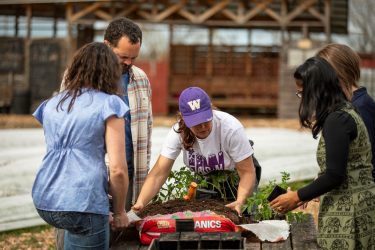 We have compiled a variety of virtual and on-the-ground volunteer opportunities for you!
Learn more about how to get involved with our annual fundraising campaign.
Connect With Us
New to the UWCFD? Want to learn more about us or have a general questions? We've got answers! Check out our FAQs or contact us.
Learn about our commitment to and resources for diversity, equity and inclusion.
The UW Combined Fund Drive acknowledges that we live and work on the traditional territories of the Duwamish and Coast Salish peoples and that we occupy this land. While we recognize that this acknowledgement does not replace authentic relationships with Indigenous communities, we hope that it honors with gratitude the land and the original inhabitants. Explore UWCFD resources for Indigenous communities.