UW Combined Fund Drive
August 28, 2023
September is Deaf Awareness Month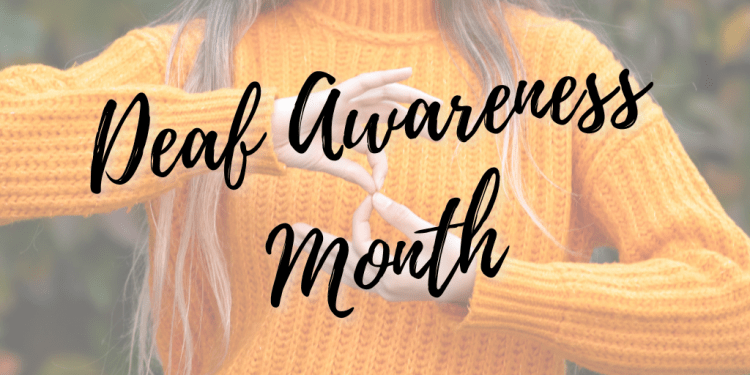 September is Deaf Awareness Month, bringing visibility to and awareness of the communication needs and unique identity of deaf and hard of hearing people.
Deaf Awareness Month aims to increase public awareness of Deaf issues, people and culture, emphasizing the positive aspects of deafness, encouraging social inclusion and raising awareness of the organizations locally, nationally and globally that support those who are deaf.
About 13% of the United States' population are deaf or hearing impaired.
The first International Day of the Deaf was celebrated by the World Federation of the Deaf (WFD) in 1958. The day of awareness was later extended to a full week, becoming the International Week of the Deaf, observed annually throughout the last full week of September (to commemorate the first World Congress of the World Federation of the Deaf, which took place in September 1951). International Week of the Deaf begins September 20.
What is the difference between Deaf/deaf?
If a person identifies as deaf  (small "d") it means that they are medically deaf and have severe-to-profound hearing loss. People who are deaf may use technology, such as hearing aids and cochlear implants, but also may communicate through speech or sign language – or both. Not all deaf or hard of hearing people identify themselves as capital "D" deaf, or members of Deaf culture.
Deaf culture (capital "D") includes its own language (sign language, used by more than 70 million people around the world to communicate), social beliefs, history, values and traditions.
There is no universal sign language and in fact, there is somewhere between 138 and 300 different sign languages used globally today.
Tips for communicating with people who are deaf or hard of hearing
From VeryWellHealth:
Make sure to obtain the person's attention before trying to communicate.
Ensure lighting is good; bright enough to see well but not creating shadows on the speaker's face or shining directly in the other person's eyes.
If speaking, do so clearly and at a normal volume. Do not exaggerate mouth movements or facial expressions. If you have a mustache/beard, be sure it is well-trimmed. Do not cover your mouth with your hands.
Check for understanding. If there is a breakdown in communication, figure out another way to say, spell, or write down the main ideas.
Resources at UW
The DO-IT (Disabilities, Opportunities, Internetworking, and Technology) program has a mission to advance the success of UW community members with disabilities through empowerment through technology and education. Staff, faculty and students can engage with the DO-IT community by joining a community of practice, mentoring students with disabilities, offering internships, adding to the program knowledge base, following on social media or donating though the UW Foundation.
The UW Department of Linguistics offers a minor in American Sign Language through which students gain an intermediate mastery of the language's vocabulary and grammatical usage in addition to courses exploring Deaf culture, history, legal issues and arts. Many people-facing professions deeply value competency in ASL and understanding of Deaf culture.
Interested in learning ASL? Registration for UW courses is not restricted to UW students during summer quarter.
The UW Disability Services Office, housed in Human Resources, offers comprehensive guidance for people in need of Deaf and hard of hearing assistance, including students, interpreters, and professors using Zoom. The Disability Resources for Students office within the Division of Student Life has been dedicated to ensuring access and inclusion for all students at the Seattle campus for 40 years, serving nearly 3,000 students with temporary or permanent physical, health, learning, sensory or psychological disabilities.
Learn more
TedX talks by deaf individuals:
DEAF YouTubers teaching ASL and Deaf culture

Check out these local organizations (and more below):
Support
Consider making a one-time contribution or setting up payroll deduction to one of our member organizations supporting the Deaf community:
University of Washington DO-IT Program Fund (charity code 1481184): promotes awareness and accessibility—in both the classroom and the workplace—to maximize the potential of individuals with disabilities and make our communities more vibrant, diverse, and inclusive.
Abused Deaf Women's Advocacy Services (charity code 0316138): ADWAS provides comprehensive services to Deaf and Deaf-Blind victims/survivors of sexual assault, domestic violence, and stalking.
Alexander Graham Bell Association for Deaf and Hard of Hearing (charity code 1479641) is a lifelong resource, support network and advocate for listening, learning, talking and living independently with hearing loss. Through publications, advocacy, training, scholarships and financial aid, AG Bell promotes the use of spoken language and hearing technology.
Deaf Children's Literacy Project (charity code 0524378): Most deaf children are behind in English language and literacy. Reading opens the door to their future. Give them the power of English to succeed.
Deaf Education Advocates Foundation (charity code 1478867): The mission of D.E.A.F. is to enhance the deaf and hard of hearing children and youth in Washington State. D.E.A.F. raises funds in support of Washington State Center for Childhood Deafness and Hearing Loss.
Deaf Spotlight (charity code 1481160): Deaf Spotlight inspires, encourages, and showcases creative works of, by, and for Deaf people in the Pacific Northwest through events that celebrate Deaf culture and American Sign Language.
Deaf-blind Service Center (charity code 0315928): Advocacy, information, training and job support services for adults who are both deaf and blind. Assistance for parents of young Deaf-Blind children.
Dogs for Deaf and Disabled Americans/NEADS (charity code 0456610): Independence and companionship for wounded warriors, autistic children, the deaf and disabled by providing custom-trained Service Dogs. Help provide these much needed Service Dogs.
Hearing, Speech and Deaf Center (charity code 0320822): Hearing, Speech and Deaf Center HSDC is a Western Washington service hub for people with hearing and speech challenges. Our mission is to foster inclusive, accessible communities through communication, advocacy, and education.
Washington State Deaf Senior Citizens (charity code 1482068): Our purpose to serve as an advocate for Deaf Seniors by providing information and education programs to enhance their physical, economic and social wellbeing, and to other wise promote the common interest of Deaf Seniors in the State of Washington.
Contributed by Nicole Reeve-Parker