UW Combined Fund Drive
June 27, 2023
A microplastic in disguise: Why glitter is problematic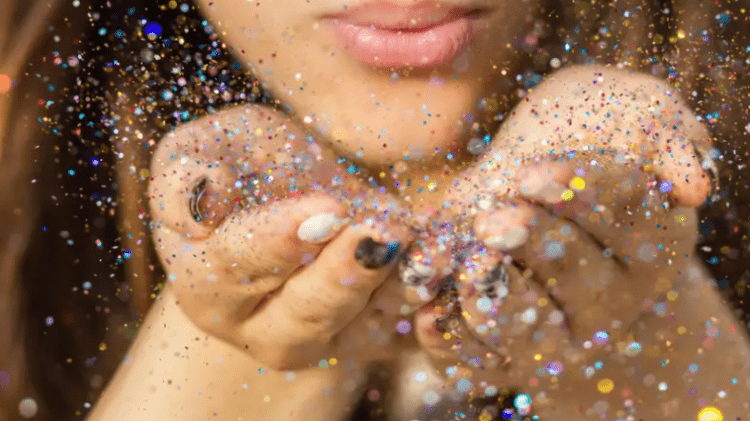 Glitter is everywhere. Makeup, nail polish, holiday decorations, greeting cards, gift bags. It's sparkly, it's festive, it shouts fun and celebration.
It's also a microplastic that is bad for the environment and for human and animal health.
"There's no crisp definition of microplastics, but I would certainly consider glitter to be a microplastic," explained Joel Baker, professor of Environmental Science at UW Tacoma and a leading researcher of water pollution in marine environments, in an article for Discover Magazine.
Microplastics, defined as small plastic particles of 5 millimeters or less, have been found everywhere: in the oceans, of course, but also in Arctic ice, on top of Mount Everest, floating in the air, in sewage, in our food and water and inside human and animal bodies—by the tens of thousands.
A 2019 study estimated that humans take in up to 100,000 bits of plastic each day by ingesting or inhaling them.
Some microplastics come from the degradation of larger plastic waste from everyday items like food containers, storage bins, water bottles and less obvious sources like carpeting, clothing, paint, electronics and car tires. Others, like glitter, are created as microplastics.
Glitter is made of the common plastics PET or PVC and coated with aluminum or other synthetic materials to make it reflective. The chemical substances used during the production of glitter have been found to adversely affect human health—including causing damage to our immune and reproductive systems and potentially leading to developmental delays and cancers—and environmental health, contaminating our soil, air, water and food.
Microplastics can also act like magnets for other toxic environmental pollutants, carrying additional toxins into the human body.
In the ocean, marine wildlife mistake microplastics for fish eggs. When ingested, these microplastics get stuck and disrupt digestion, causing malnutrition and weight loss. And when humans or other animals eat these marine animals, they ingest the ingested microplastics as well.
Clearly, microplastics are a big part of global pollution, and understanding their effect on human and environmental health is a pressing issue.
Greener alternatives
Obviously, going glitter-free is a good idea—but it may not be much fun.
For those of us not quite ready to eschew glitter for good, many companies have started producing biodegradable glitters made with the mineral mica and vegan glitters made from plant cellulose that can refract light to create vivid colors.
Bio-glitter is currently the only glitter manufacturer that has been independently certified to biograde in normal conditions in the natural environment, including in fresh water. It is 100% plastic-free and is made from regenerated eucalyptus cellulose that is responsibly sourced.
Check out Eco-Stardust and Projekt Glitter for Bio-glitter-approved biodegradable glitter products that are better for the environment and our bodies.
An even better idea? Try a natural glitter, like oven roasted, dyed salts, colored rice or colored sand, to decorate projects.
Keep in mind, however, that both non-biodegradable plastic glitter and alternative glitter made from cellulose or mica can affect aquatic ecosystems. And while the long-term health consequences of exposure to microplastics is not well understood, glitter is but a tiny sparkling bit of the much larger problem of plastic in the oceans.
The most eco-friendly and health-conscious choice you can make around plastics is to avoid the unnecessary and excessive use of any and all plastics, opting instead for reusable alternatives and sustainable materials.
"The best thing to do is to minimize the use of 'single-use' plastic and to properly dispose of those that you do use," Professor Baker said. "We probably cannot avoid contributing [to microplastic pollution], but there are ways to reduce our contributions."
Support
Consider making a one-time contribution or setting up payroll deduction to one of our CFD member organizations working on environmental conservation and sustainability education:
The Surfrider Foundation (charity code 03159039) is dedicated to the protection and enjoyment of the world's ocean, waves and beaches, for all people, through a powerful activist network.
OCTO – Open Communications for the Ocean (charity code 0487450) connects ocean professionals to the knowledge and networks they need. Through our programs and communities, we empower conservationists and resource managers to apply best practices worldwide.
Greenpeace (charity code 0314978): Greenpeace's mission is to expose global environmental problems and promote solutions for future generations.
Join Conservation Northwest in connecting habitat, protecting wildlands, and restoring wildlife (charity code 0320835).
Carbonfund.org Foundation (charity code 1481702): Prioritizes climate change education, carbon offsets and reductions, and public outreach.
Friends Of the Earth (charity code 0314972): Promotes clean and sustainable energy, clean transportation, climate justice for poor and vulnerable populations, responsible use of technology and protection of the earth.
EarthShare Washington (charity code 0316709): EarthShare brings together individuals, workplaces, and communities to protect our planet's health. We are a network of local and national nonprofits working to improve and preserve the environment here at home and around the world.
Contributed by Nicole Reeve-Parker