Five questions with Recruiting and Sourcing Specialist Terra Kerr
Categories: Notes from the field, Total Talent Management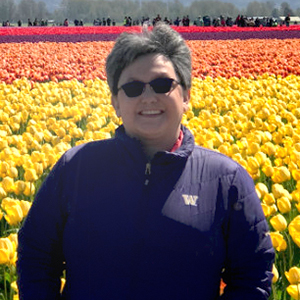 1. You were hired in September 2018 into a newly created role in Recruitment and Staffing. How did this position come about?
My position is part of a larger transformation that started before I came on board, when a number of units in UWHR were grouped into Total Talent Management under the leadership of Ujima Donalson. From what I've learned, there's a real drive to better support managers in hiring, as well as other functions.
As far as hiring, the hope is that we can enhance the level of support we provide so that hiring managers look to us for talent, not just paper or process. My position was created, in part, to help us figure out how to make that shift and transform our employment specialists' day-to-day work.
2. So, what is your day-to-day work?
About 60% of my position is working as an employment specialist, which entails partnering with a hiring manager or hiring team who has a vacancy to support them and shepherd the hiring process along. Of course there are a lot of steps and nuances, but put very simply, that means understanding what the job is, making sure it gets posted and that people who actually fit the role are applying, and presenting the most qualified candidates to the hiring manager. Employment specialists also help keep things on track by ensuring that hiring managers are moving forward with candidate review, interviews, and, finally, with extending an offer.
The remaining 40% of my time is the new stuff — shifting how we in Recruitment and Staffing work, which includes sourcing and becoming more active in recruiting talent.
3. Tell me more about that piece.
The added aspect of sourcing involves attracting passive talent and also better leveraging active talent. Passive talent means individuals who may not be currently planning to leave their role. Instead of posting openings and waiting for individuals to find us, we're looking to utilize other sources of finding qualified and unique talent and attracting them to the UW.
Active talent is individuals who have applied for a role at the University but are still seeking a position. Let's say you have a really good, qualified candidate who applies for a position at the School of Dentistry, but they're the hiring team's second choice. Soon after, the same position opens at the School of Medicine. How do we ensure that candidate is still engaged and connected?
A lot of my position revolves around how we can bring more visibility to various roles here at the UW and bring more talent to those roles. What we're working towards is that when positions open, we can tell a hiring team that we already have some talent that's a very good fit.
4. What are the next steps?
I've been working closely with Michael Campbell, who leads Recruiting and Staffing, as well as with the rest of the team. We're defining what sourcing means to us as well as step-by-step processes and best practices. We're also looking at CRMs, which is basically client management software, to figure out what tools and systems might help us better organize and track candidates over time. We can get a little siloed as far as the different departments we work with, so using technology to get all the talent in one place will really help.
As we move forward more with sourcing, I expect our one-on-one conversations with hiring managers are going to become even more important. Right now, there's a focus on the minimum qualifications—say, years of experience plus degree—but as we shift how we're sourcing talent we'll want to have a more in-depth understanding of the actual job duties because that's how we'll find the right talent.
5. You were most recently at Amazon. Is the world of HR very different here?
I've been doing this kind of work for almost fifteen years now, and believe it or not, the challenges we face in UWHR are very familiar to me from the private sector.
Yes, Amazon is a high-tech company, and I went in there thinking there would be an amazing applicant tracking system. It turned out that I had two different systems to work with, just like we do here, and Amazon had a proprietary system, just like we have with UWHIRES. It was difficult for one piece to talk to another piece.
What's been different here is the candidate flow, being able to search for candidates who may actually fit the requirements of a job versus just the people who have applied. That's challenging with the systems we have currently, but I think the solutions we're working towards will help immensely.