UW Combined Fund Drive
July 26, 2023
Family-friendly summer volunteering opportunities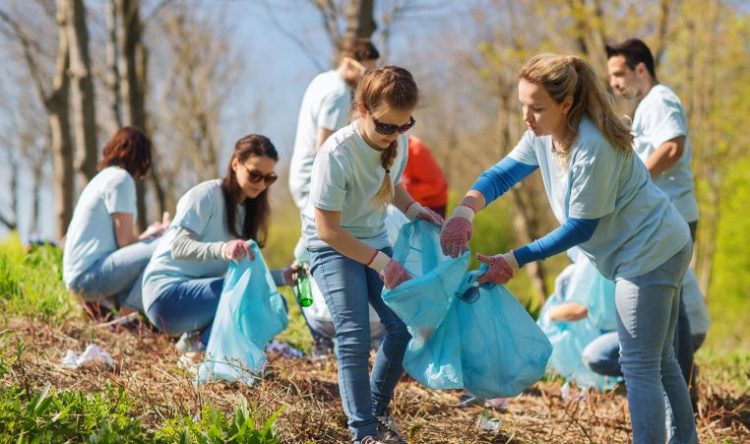 Give back to your community by volunteering to help neighbors, animals and the outdoors.
There are countless benefits to volunteering, for yourself and the community: volunteering builds trust between communities and nonprofits, can teach new skills and broaden your interests, and help you connect with and expand your network.
In Washington State, each hour you volunteer saves a nonprofit more than $30.00
Why volunteer?
Volunteering is a wonderful family activity. In addition to the bonding that happens when families are active together, volunteering offers a sense of purpose and can start a conversation about community problems and how to be part of the solution.
Volunteering can be part of a healthy lifestyle. You read that right – volunteering has serious health benefits! Volunteering has been shown to reduce stress, boost confidence, and increase life span.
Volunteering is good for your career. Volunteer experience on your resume demonstrates to potential employers that you can take initiative, overcome challenges and learn new skills.
Learn more: Volunteer for your health, happiness and a better world (The Whole U)
Ready to volunteer?
The UW Combined Fund Drive continuously compiles volunteer opportunities with our 4,700 member organizations. Or:
Family opportunities
The University District Food Bank has been helping prevent hunger in Northeast Seattle for 40 years. Youths ages 13–18 are welcome to volunteer, with parental permission. Kids younger than 12 are welcome to volunteer with an adult family member.
Volunteering duties at Food Lifeline are fun, easy and make a huge difference in the lives of people experiencing hunger. Volunteers must be age 10 or older.
Support youth experiencing foster care by volunteering for Treehouse for Kids! High schoolers are free to volunteer without an adult. Tasks include sorting donations, preparing merchandise for the Treehouse Store and more.
Help sort and pack food for Northwest Harvest, which promotes healthy eating while reducing hunger. Volunteers ages 9–15 must be accompanied by a parent or guardian; teens ages 16 and older can volunteer independently.
Seattle Parks and Recreation provides a wide range of free service opportunities. Teens can help restore trails, repair urban forest land, gain water-safety experience as a lifeguard and more. Teens are expected to be reliable and "proud of the work that they have produced."
Teens in eighth grade through high school can volunteer as camp counselors at Camp Fire day camps and overnight camps for younger kids. Counselors help with programming that includes cooking, games, arts and crafts, nature and more.
Washington Trails Association offers tons of outdoor opportunities. By attending a work party, teens can learn leadership and outdoor skills, earn service hours and make new friends — all while spending time outside.
Help beautify locations all around Puget Sound — from Everett to Tacoma — with EarthCorps! Volunteers ages 14–18 are free to volunteer without a parent or guardian as long as that adult completes a waiver for their teen to turn in on the day of the work event.
Help keep children safe, warm and dry by volunteering for WestSide Baby. Sort donations, bundle diapers, fill orders and more. Teens ages 14 and older can volunteer on their own; children younger than 14 need a parent to come along.
Consider financial support, too
Even the most efficient nonprofits need donor support to be effective. Consider supporting nonprofit organizations your care about with financial contributions to increase their capacity for doing good while allowing you to boost a cause about which you are passionate.
Some questions to ask as you research a prospective nonprofit, whether to volunteer or contribute financially:
Does the organization do work that makes you feel proud, joyful, relieved or hopeful?
What is their mission and vision and are these achievable?
Are they able to respond quickly to changing priorities?
Is the organization working locally, nationally, or internationally, and to what degree is this important to you?
Does the organization provide opportunities for you to learn more and get involved?
Set up monthly payroll deduction or make a one-time gift through the UW Combined Fund Drive (UWCFD) to any of thousands of charitable organizations locally, nationally and internationally.
---
At the UWCFD, our purpose is to support and provide UW employees the opportunity to give. You've heard the call to make a difference – you donate more and volunteer more than anyone else! UW employees are regularly recognized as some of the most generous in the country with their time and money.