UW Combined Fund Drive
May 22, 2023
Fire season 2023: Prevention tips and resources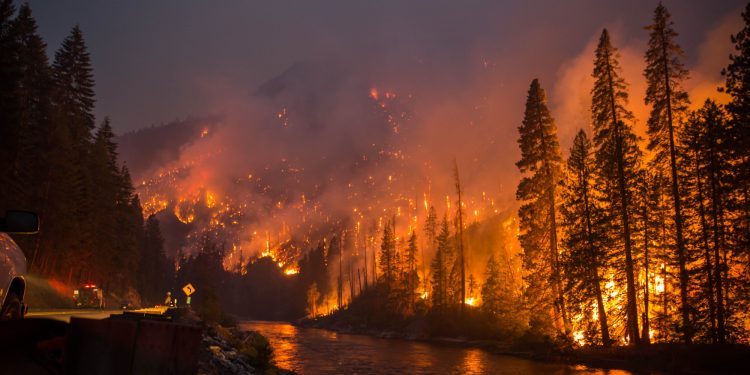 In the western U.S., wildfire season has become longer, more unpredictable and more devastating to people and wildlife. Smoky skies and poor air quality are becoming the norm in the region. Being prepared by knowing how to reduce the risk of wildfires and how to protect people and property is essential to adapting to this new normal.
Already by mid-May, wildfire smoke from blazes in Canada was blanketing the Seattle area with a haze, and while this amount of smoke is unlikely to cause significant health issues, it is a good reminder of the need to be prepared. Many will remember the dubious honor last October when Seattle had the worst air quality in the world.
Unlike the past two wildfire seasons, when drought conditions and dry and windy heat waves across the Western U.S. produced significant fires, many areas in the West saw an abundant snowpack this past winter. The unusually heavy snowpack offset the severe drought conditions of much of the west from the previous years, slowing the start of the fire season and potentially lessening the number and severity of fires.
But a weather pattern change to warm, dry weather can easily melt the snowpack in the spring. And as summer advances, parched vegetation resulting from drought provides tinder for fast-moving fires. Moreover, a wetter winter results in more grass growth, which once dry can be a prime fuel for wildfires.
These risk factors, and the effects of climate change, are all indicators for another difficult, damaging, and potentially deadly fire season.
According to environmental health researcher in the Savannah D'Evelyn, a postdoctoral fellow with the UW Department of Environmental and Occupational Health Sciences, wildfire smoke doesn't cause an onset of new disease. However, particulate matter in the air can make existing health conditions, such as asthma and cardiovascular disease, worse in some people.
Natural fires, often caused by lightning, are a normal part of ecological balance, although they happen unexpectedly and can quickly grow out of control. Accidental fires – those caused by humans – are often sparked by people's poor choices or careless behavior, such as discarded lit cigarettes, campfires that are not sufficiently dampened, vehicle sparks or fireworks.
Fire season lasts from roughly May through November, starting earlier in the Southwest and moving north as the season wears on. And research shows that fire season is growing longer, exacerbated by factors related to climate change as the planet heats up.
Safety tips for fire season
Nearly nine out of ten wildfires nationwide are human-caused and can be prevented.
There are many ways to protect yourself and your family from fire and the health risks associated with wildfire smoke:
Be in the know: be aware of the fire danger forecast with tools provided by the National Weather Service and S. Geological Survey.
Clean up: make sure your home is clear of debris, flammable materials like firewood, and dead vegetation.
Ventilate: beyond the imminent danger of fire is the lingering effect of smoke. Keep your windows closed, use air filtration systems, and minimize your time outside. Consult the Washington State Department of Health Smoke from Fires website for additional information.
Emergency planning: consider making a plan in case you need to evacuate due to fires. Make sure to include any important documents, learn about local shelters and services, and have necessary supplies. Though unlikely in Western Washington, knowing how to respond to fire can save lives.
Recreate responsibly: whether you're out camping or enjoying a bonfire in the backyard, make sure you understand the potential for explosions or fire with your equipment and toys. Check that fires and heat sources are extinguished.
The state Department of Natural Resources has several tips to help prevent wildfires, including campfire safety and home landscaping in dry conditions.
Wildfire Ready Neighbors assists Washingtonians in high-risk areas with risk assessments and in-home consultations to help create a wildfire protection plan that works for your property, budget and lifestyle needs.
Tips at Ready.gov: Prepare for Wildfires
Support
Fire season highlights the incredible work of firefighters and environmental protection organizations. Consider setting up monthly payroll deduction or making a one-time gift to any of the following UWCFD member organizations working to mitigate the effect of wildfires in our region: 
University of Washington Forest Resources Scholarship Fund (charity code 1480131): To provide support for students enrolled in the School of Environmental and Forest Sciences.
Washington State Fire Fighter's Association (charity code 0518389): The Washington State Fire Fighters' Association provides information education benefits and representation to the volunteer fire service of the State of Washington in order to enhance their capabilities and professionalism.
Washington State Council of Firefighters Burn Foundation (charity code 0457346): Provide funding for burn research and public burn education fire prevention programs and summer camp for children with burn injuries through a system of grants.
The Soup Ladies (charity code 1481469): Our mission is to provide fresh cooked meals expeditiously to support first responders such as police and fire departments, search and rescue teams and military personnel in times of emergencies and disasters.
The National Forest Foundation (charity code 1478546) works on behalf of the American public to inspire personal and meaningful connections to our National Forests, the centerpiece of America's public lands.
The American Forest Foundation (charity code 1478546) works on-the-ground with families, teachers and elected officials to promote stewardship of and protect our nation's forest heritage.
The National Fallen Firefighters Foundation (charity code 1482288) honors fallen fire heroes and supports their families and colleagues; and works to reduce preventable firefighter death and injury.