UW Combined Fund Drive
November 16, 2021
COVID-19: A Child Rights Crisis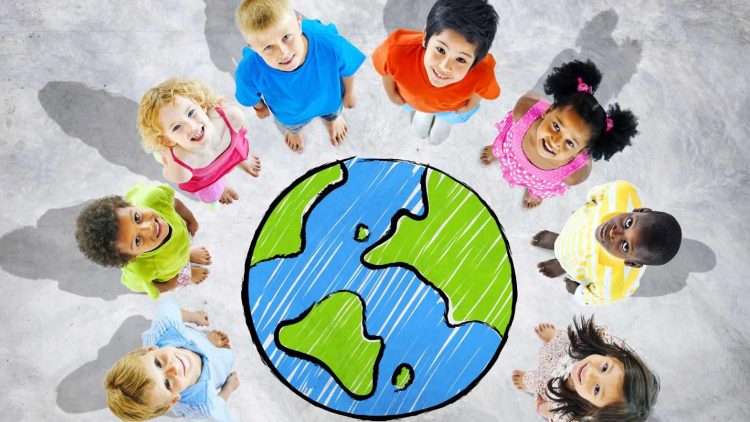 Each year on November 20th, the United Nations, countries, and individuals worldwide commemorate World Children's Day to promote international unity, spread awareness among youth, and improve children's welfare. 
November 20 is significant in history as the day in 1959 when the UN General Assembly adopted the Declaration of the Rights of the Child. The declaration asserted that all children have a right to food, health care, education, and protection from exploitation. Thirty years later, in 1989, the UN General Assembly adopted the Convention on the Rights of the Child—the most universally accepted human rights treaty in history. 
The Impact of COVID-19 on Children's Rights
The COVID-19 pandemic has significantly impacted children worldwide, resulting in a child rights crisis that must be addressed immediately. Children of all ages and backgrounds are being affected, specifically by the socioeconomic impacts and mitigation measures resulting from the pandemic. The consequences of the pandemic additionally are not being distributed equally, as the damage will affect children in the poorest and most vulnerable conditions the most.
According to UNICEF, approximately 150 million additional children are living in multidimensional poverty, without access to essential services such as education or health services. 
Learning & Education 
The onset of the pandemic in 2020 resulted in schools for more than 168 children worldwide being completely shut down as a result of COVID-19 lockdowns. With many of our local educational institutions seamlessly transitioning into remote learning for students, according to UNICEF, at least 463 million children worldwide were unable to access remote learning during this period of school closures.
Globally, many schools lack the resources necessary to adopt digital learning, and children from poorer households do not have access to technology or internet access. In addition to physical barriers, many children may be unable to learn effectively digitally due to skills gaps among their teachers or a lack of support from parents.  
Survival & Health 
COVID-19 has additionally led to extreme increases in child mortality as a result of the indirect effects stemming from strained health systems and health services, such as immunization and antenatal care. Proper antenatal and delivery care could prevent these detrimental losses, however, few women were receiving this necessary care to prevent stillbirths even before the pandemic hit. Due to COVID-19 related effects, almost 200,000 stillbirths could occur over the next 12 months worldwide.
The pandemic and its consequences are threatening to reverse the historical progress made globally toward eliminating preventable child mortality.
The current efforts to reduce the transmission of COVID-19 are additionally disrupting food systems, depleting health and nutrition services, distressing livelihoods, and threatening food security. The impacts of COVID-19 on nutrition and health are manifold, and are disproportionately impacting at-risk populations the most. 
Violence, Exploitation, & Abuse 
The risk of violence, exploitation, and abuse among children are increased as a result of COVID-19 lockdown measures. Factors related to confinement measures are likely to result in increased tensions within households, greater stressors placed on caregivers, economic uncertainty, job loss, and social isolation. According to UNICEF, 66% of countries reported a disruption in violence against child-related services resulting from COVID-19.
Girls globally have especially experienced dramatic changes in their physical and mental health, their education, and the economic circumstances of their families and communities. Alterations like these increase the occurrence of child marriage, and over the next decade, up to 10 million more girls are predicted to become child brides as a result of the pandemic. 
Beyond the Pandemic 
As we look forward and envision the fate of our communities and the world, today's children are the face of the future. All generations must come together to reimagine the type of world we hope to create, and all individuals have the ability to play an important role in making World Children's day significant for societies, communities, and nations. Advocating for children, child rights, and children's welfare, ultimately, is advocating for a more just and equitable world.  
Get Involved
Youth: Join the 

Voices of Youth Community

 

Parents: Support and help your children understand their rights

 

Teachers: Promote intellectual growth and an equitable learning environment for the younger generation today

 

Stay informed and educated about the current global laws and policies surrounding child rights

 

Volunteer with your local youth services organization

 

Donate to a local, national, or international organization working to improve youth services and children's welfare

 
Support
Consider making a one-time contribution or setting up payroll deduction to one of our CFD member organizations working to improve youth services and children's welfare:  
Bike Works (Charity Code: 0315223): is dedicated to building sustainable communities by educating youth and promoting bicycling. Since 1996 we've worked to educate and empower youth, and make bicycling accessible and affordable to the Seattle community. 
Childhaven (Charity Code: 0320812): partners with parents and community to strengthen families, prevent childhood trauma and its damaging effects, and prepare children for a lifetime of well-being. 
Children's Alliance (Charity Code: 0315327): is Washington's statewide child advocacy organization. We champion public policies and practices that deliver the essentials kids need to thrive – confidence, stability, health, and safety. 
Community for Youth (Charity Code: 0329900): inspires and supports youth to identify and achieve their goals through mentoring, learning experiences, and participation in a powerful community. 
Friends of the Children – Seattle (Charity Code: 1478506): is impacting generational change by empowering youth who are facing the greatest obstacles through relationships with professional mentors 12 years, no matter what. 
International Children's Network / Matsiko Children International (Charity Code: 1478861): works to find educational sponsors for our world's 600 million orphaned and at-risk children to empower them by receiving a complete education through their nation's highest university or vocational levels. 
Treehouse (Charity Code: 0315399):  strives to create a world where every child that has experienced foster care has the opportunities and support they need to pursue their dreams and launch successfully into adulthood. 
WestSide Baby (Charity Code: 0350238):  purchases, collects and distributes, free of charge, new and used clothing, books, toys, and other essential baby items to needy babies and children in West Seattle and Southwest King County. 
Youth Development Fund (Charity Code: 0315510): is a small non-profit organization that provides grants, loans and program support to at-risk youth when all other community resources have been exhausted.