Return to Meet the Consultants
Helen Chung, Ph.D. – Scontrino Powell, Inc.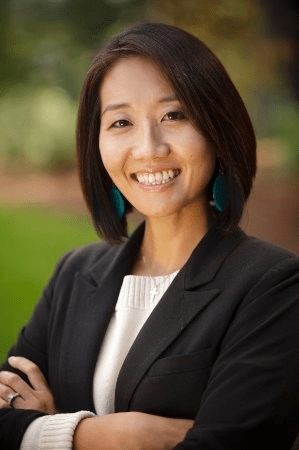 PHILOSOPHY STATEMENT
As a coach, I seek to facilitate a process that builds and deepens leadership capacity in my clients. I work with individuals, teams, and organizations to explore, identify, and design sustainable change. This process requires a commitment to learning, questioning of assumptions, trying out of new actions, and reflecting on actions taken. My coaching and consulting sessions are marked by active listening, thoughtful collaboration, and a genuine desire to see the client win.
With my background in Industrial-Organizational Psychology, I have expertise in leadership frameworks (transformational, servant, and inclusive leadership), team  dynamics, storytelling, and career transitions. I am motivated to help my clients leverage evidence-based practices to achieve their goals.
AREAS OF EXPERTISE/RESULTS
Executive Coaching, enhanced with assessments
Leadership Development
Career Transitions & Work Identity
Team Building & Interpersonal Skills Development
Diversity, Equity, & Inclusion Strategies
Strategies for Effective Learning in Higher Education
EXPERIENCE / SELECTED PROJECTS
Leadership Coaching: I have worked with individuals to help them stretch to meet the demands of expanded or changing roles and environmental shifts.
Career Transitions & Work Identity: I have worked with hundreds of individuals in a range of roles to help them discover and/or refine their career paths, develop their networks, navigate career transitions, reflect on their work identities, and craft new stories that enable personal transformation.
Diversity, Equity, and Inclusion: I have worked with individuals on developing and adopting strategies toward fostering inclusive teams and workplaces.
Higher Education: I have worked extensively in the classroom and with faculty/staff on designing pedagogy and curricula that is student-centered, with an emphasis on inclusion, cultural competency, and cultural humility.
CREDENTIALS
Ph.D. in Industrial-Organizational Psychology, Seattle Pacific University, Seattle, WA
M.T.S., Harvard Divinity School, Cambridge, MA
Trained in various assessments (Full Range Leadership, Team Dynamics, PsyCap, Developmental Readiness, EQ)
Committee on Ethnic and Minority Affairs, Society of Industrial and Organizational Psychologists, 2018 – present
SELECTED CLIENTS
League of Conservation Voters
King County Agencies
John L. Scott Real Estate, Northpoint Escrow
University of WA
Return to Meet the Consultants