David B. Thorud Leadership Award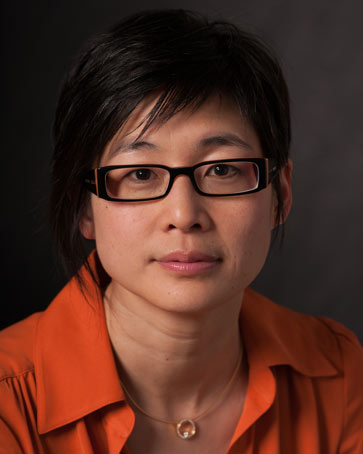 It is my pleasure to nominate Joyce Yen for the David B. Thorud Leadership Award for Staff. Joyce has been the Program/Research Manager for the UW's ADVANCE program since 2003. Funded by the National Science Foundation (NSF), the goal of ADVANCE is to increase the participation and advancement of women faculty in science, technology engineering, and math (STEM). Joyce's ability to bring individuals together, both within and across disciplines, is unparalleled. She is a gifted leader who has had profound impact on countless people in STEM.
Joyce's leadership get results. The UW's College of Engineering has risen from 16% in 2003 to 21% women faculty which is significantly higher than the U.S. average of 12.7%. This great accomplishment is due in large part to Joyce.
Joyce meets with many of the women faculty recruits in ADVANCE departments during their interviews. Many women cite these meetings and ADVANCE as primary reasons for choosing UW. Writes Assistant Professor Jessica Lundquist, Civil and Environmental Engineering, "Joyce and the ADVANCE program are a large part of the reason why I chose to come to UW.
Joyce also meets with new women faculty after they arrive and continues to serve as a support system. She initiated the ADVANCE junior faculty workshop series (for women and men) to help these faculty succeed. Topics include managing time; establishing a lab; recruiting and mentoring graduate students; writing proposals; and balancing teaching, research, and service. Bioengineering Professor Suzie Pun writes, "Joyce has made a significant impact in my career here at UW. First, she organized several seminars and workshops that were very helpful to me in grant-writing, mentoring, and managing my research group. Second, I consulted Joyce throughout the years with questions regarding specific mentoring issues with my female students."
At the student level, Joyce is leading PEERs, an effort within the College of Engineering to educate students, faculty, and staff about the effects of bias and privilege on students and to create a more welcoming climate for underrepresented students. As part of this, Joyce taught ENGR 498C in Autumn 2009, 2010, and 2011 with Professor Sapna Cheryan and leads a student workforce of PEER Leaders. Professor Cheryan writes: "I have really loved working with Joyce on this class. What makes Joyce unique is that she is highly productive but she manages to make the process fun for everyone around her — a combination that is rare to find in one person."
Ahlmahz Negash, a PhD student in Electrical Engineering, is a PEER Leader. She writes, "I think what I find most memorable about Joyce is her approach in teaching and promoting diversity. I especially appreciate the way she mentors us (PEER leaders). She gives us freedom to express our opinions and personal experiences but guides us so that our speech will not be unintentionally offensive. Establishing equality and justice in engineering relationships is not a task for just one person. I admire Joyce for her leadership in bringing students and faculty together to invoke this positive change."
On the national level, Joyce is a key driver on three highly successful NSF grants which created national workshops to increase STEM faculty diversity. The workshops target early career women biologists (WEBS); STEM department chairs (LEAD); and Ph.D. women interested in transitioning into faculty careers from industry and government positions (On-Ramps into Academia). Every year I get multiple letters from WEBS participants giving rave reviews of their WEBS experiences and how it has changed their lives. Two participants from the 2009 On-Ramps workshop began academic positions at UW in 2011. All of these programs provide great national visibility for UW.
Last winter, Joyce led a fire drill to submit a proposal to the National Institutes of Health for a program to provide professional development to underrepresented early career neuroscientists. She pulled together faculty from many disciplines and put together a masterpiece in just one month. The grant was funded for $1.35M and I look forward to seeing Joyce's leadership positively impact this new community, the way she has transformed the careers of countless chairs, faculty, and students in STEM. Through Joyce's leadership, UW will again have a high national profile for advancing diversity in STEM and being at the forefront of faculty professional development.
Comments from Laura Kramer, former NSF ADVANCE Program officer, further illustrate Joyce's national impact. Dr. Kramer writes, "When I see Dr. Yen's name on a program or an email I know there will be an insightful, even wise, dimension to the event or the correspondence. … she is one of the people whose acquaintance I count as a prized outcome of my experiences with ADVANCE. I often find myself recommending her when others seek expertise regarding ADVANCE."
In June 2007, I was honored with the Thorud Leadership Award for faculty for my work with the ADVANCE program. ADVANCE looks very different now than it did back then. As our original National Science Foundation grant ended in 2007, we have sustained our program while reaching more leaders on campus, students in engineering, and more department chairs and faculty nationally. Joyce has led all these efforts, from the idea stage to the grant writing to the programming to the oversight. Originally trained as an industrial engineer, Joyce has since become an expert on the social science literature of bias in the academy. She is able to answer most questions chairs have about difficulties in their departments with a reference to a study and a solution for what they are experiencing. When I meet national ADVANCE colleagues, Joyce is widely recognized as one of the most effective people working in an ADVANCE program. Toby Bradshaw, chair of Biology calls Joyce a "miracle worker and an incredible asset to the UW."
In summary, Joyce Yen's leadership has created incredible positive change in the University of Washington community. Her work goes well beyond UW to impact a nationwide community of women faculty in STEM. I heartily agree with former Biology chair Ray Huey who, in reflecting on Joyce's splendid leadership, wrote "I've been lucky to meet some amazing people in my decades at the UW, and you are definitely in the group I admire most." Joyce Yen is truly deserving of the Thorud Leadership Award for Staff, and I hope she will be selected for this great honor.