David B. Thorud Leadership Award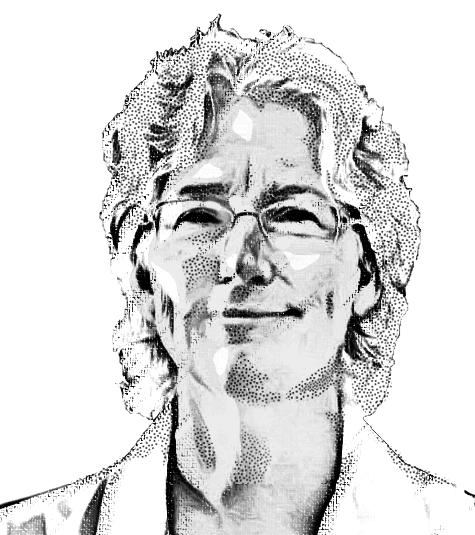 On behalf of the Department of Medicine, it gives me great pleasure to nomination Dr. Virginia Broudy for the 2020 David Thorud Leadership Award. In her 34-year career in the Department of Medicine at the University of Washington, Dr. Broudy has exemplified the creative, results-oriented leadership and outstanding communication skills the Thorud Leadership Award is meant to recognize.
Dr. Broudy completed her undergraduate training at Harvard College and earned her medical degree at the University of California, San Francisco. She completed her internship, residency, and hematology/oncology fellowship at Oregon Health Sciences University in Portland. She joined the University of Washington as a senior fellow in the Division of Hematology in 1985 and rose rapidly through the ranks achieving promotion to Professor of Medicine in 1998.
During her early career, she was an outstanding hematology researcher, with work that resulted in over 70 peer-reviewed publications and four patents. Her clinical acumen has been recognized by being named to the "Best Doctors in America" list six times to the "Best Doctors in Seattle" list 14 times, most recently in 2019. Her outstanding career was recognized with receipt of the Scripps Professor of Hematology chair in 2008.
Dr. Broudy also excels at teaching. In 2001, she was awarded the Paul B Beeson Award, "presented annually by the internal medicine residents to recognize outstanding clinical teaching by a faculty member who exemplifies scholarliness, humility, compassion, and integrity." She received the Marvin Turk Outstanding Teaching Award in 2011, "a career achievement award from the Department of Medicine to honor individuals whose long-term contributions have defined departmental standards for patient care and teaching and made the University of Washington an outstanding educational institution."
In addition to her outstanding contributions as a clinician, scientist, and teacher, Dr. Broudy is an exemplary leader. Her two most notable leadership roles include Chief of Medicine at Harborview Medical Center 2002-2018, a role which included being Vice Chair of the Department of Medicine, and Interim Chair of the Department of Medicine 2018-2019.
In her 16-year tenure as Chief of Medicine at Harborview, Dr. Broudy exemplified innovation in leadership. Particularly noteworthy was her use of outstanding teamwork skills and deep knowledge of quality improvement techniques to spearhead several improvement initiatives, including one that increased Pneumovax vaccination rates for high-risk patients from 44% to 90% and another that enhanced the management of inpatients with diabetes. Both of these initiatives led not only to scholarly publications but also served as a model for improving the care of complex and vulnerable patient populations.
These outstanding leadership skills and commitment to engaging broad teams of stakeholders in seeking practical and effective solutions to complex problems made her a natural choice for serving as the interim chair of the Department of Medicine from 2018 to 2019. The Department of Medicine is a large and diverse unit, with over 1000 full-time faculty, 1200 voluntary faculty, 479 post-graduate trainees, and 1000 staff. Prior to September 2019, at which time I was appointed Chair, the Department of Medicine had only five chairs since its founding in 1948, with my predecessor, Dr. William Bremner, serving in that role for 20 years. Long term stability of a Chair in a large department has multiple benefits, but it also poses substantial challenges during times of transition. Dr. Broudy successfully stepped into the role of interim chair during the search to find Dr. Bremner's successor.
In her role as interim chair, Dr. Broudy far exceeded the high expectations the Department had for her. As has been the case throughout her career, she was renowned for her excellent listening skills, practical approach to problem solving leavened with a gracious smile, "can-do" attitude, and for her motto "we all have to row in the same direction to succeed." Among Dr. Broudy's many accomplishments during her tenure as interim chair, she spearheaded the successful transition of Northwest Hospital to becoming a campus of UW Medical Center, a process that included many adroit negotiations about faculty titles, job descriptions, salaries, and leadership roles. She also succeeded in bringing a long-desired change to what had previously been known as the "clinician-teacher pathway" to its new title "clinician scholar", in recognition of the important contributions these faculty make to the academic mission.
Her leadership of the Department was also noteworthy for a willingness to take on problems that had been largely unaddressed for long periods of time instead of "kicking the can down the road." One particularly outstanding example was her leadership of the Department through a process of identifying and implementing principles that could be used across the Department's twelve divisions for fairly dividing clinical revenue. To address this contentious topic, she worked with her leadership team to conduct a series of formal interviews with division heads and division administrators, allowing each of them to share their perspectives and be heard, thereby facilitating a feasible consensus. Similarly, when a long-standing program within the Department was struggling, she undertook a thoughtful process of engaging all the relevant stakeholders within and outside the university, collecting and analyzing objective performance data, developing an improvement plan, and executing that plan effectively despite loud consternation from advocates of the status quo. Once this new plan was implemented, many of the stakeholders personally thanked Dr. Broudy for her willingness to solve a problem that had gone unresolved for far too long.
While Dr. Broudy exemplifies all of the nomination criteria for the Thorud Award, what most strikes anyone who has the privilege of interacting with Dr. Broudy is her outstanding interpersonal, communication, and listening skills. When you meet with Dr. Broudy, whether individually or in a team everyone comes away feeling heard, respected, and valued. She has a deeply kind and caring spirit and goes out of her way to provide thoughtful support to all.
On a personal note, I could not have asked for a warmer welcome by Dr. Broudy when I arrived as the new Chair. From my first interaction with her while interviewing, her selfless focused goal of the benefit of the Department permeated every interaction. She applied herself with the same fervor of being interim Chair to her role of "transitioner." She is historian, peer, counsel and role model to all of us.
The Department of Medicine and the University of Washington School of Medicine have significantly benefited from her leadership. She is most deserving of the Thorud Award.
Sincerely,
Barbara Jung, M.D.