Distinguished Staff Award
Nomination category: Collaboration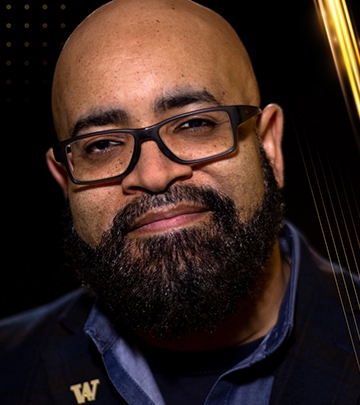 I am nominating Steven Roberts (he/him) because he has a tremendous impact to the UW community. He is the Assistant Director of Creative Communications in Mailing Services. He began working in Mailing Services in 1996 as a Mail Carrier/Driver. He has been promoted many times and is currently the Assistant Director, overseeing Mailing Services, Safety and Building Coordination. Steven is very collaborative, and has changed the way Mailing Services interacts with campus on many fronts. He has increased the services offered by Mailing Services, the timeliness of service and high customer satistisfaction. Under Steven's direction, Mailing Services moved from gas powered trucks to hybrid-electric vehicles in 2011, helped get the original fleet of Bicycle Delivery Riders pedalling across the Seattle campus beginning in 2015, and then helped to transition from bicycles to fast and efficient electric-assist bicycles in 2018, collaborating with a student group, the Campus Sustainabily Fund and Environmental Stewardship and Sustainability across campus to get this program off the ground.
The e-bike team delivers mail and packages around the Seattle campus (including Eastlake and Downtown) significantly decreasing the carbon footprint. The Mailing Services team has received several Husky Green Awards for these changes. In addition to Steven's impact on sustainable delivery metiods, he continues to add value to the UW by his willingness to work with people and departments to address need as they come up. When the "Stay at Home" order was announced, Steven realized the chaos that would ensue with mail with the campus mail, USPS mail, and packages to customers across the UW; he composed and sent a letter to all users telling them not to worry, Mailing Services could handle the mail by customer preference- they could forward mail to their homes, hold it at Mailing Services or deliver it the departmental mail rooms. When Amazon continued to deliver packages to closed building on campus, Steven also contacted Amazon and other delivery companies asking asked them to re-route all deliveries to the Mailing Services location, who then contacted customers for delivery options. This level of extra care on behalf of UW students and employees is outstanding.
Tell us why you are nominating this individual
Steven Robert's impact at the university is immeasurable. As Doug Stevens (Manager of Mailing Services, and a direct report to Steven) says, "At the outset of the pandemic, as students and staff began remote work, leaving campus buildings empty, Steven quickly transformed Mailing Services into the central receiver of shipments and materials for the university campus. While university staff transformed into a hybrid work model, Mailing Services was inundated with requests to take on new responsibilities on campus. From courier routes for UW Medicine, internal routes for UW Finance, or transporting records for UW Records Management, Steven rarely turns down a request to provide service. Many of these enhanced services are still in effect today leading to greater efficiencies throughout the university. Steven's constant desire to collaborate, his leadership, and his ability to embrace change, exemplify excellence and make him an ideal candidate for the DSA."
Steven has also served on the USPS Customer Council for many years, and was the co-lead for two years. Working with the postal services, community members while representing the UW community, he had a voice with decision makers in USPS; he was instrumental in getting the campus needs met, including new delivery points at dorms.
Steven also responds many unusual requests from departments; working collabortivity with people across three campuses and four hospitals, he is always able to find a creative way to get their delivery needs met, on time, every time.
What makes this nominee worthy of the DSA?
As part of this nomination, I am including comments from Diana Kramer, Director of The Daily newspaper. Diana wrote "Steven Roberts of Mailing Services is one of the quiet heroes of the UW. He helps make my work possible. Over the past few years, The Daily reduced print frequency to meet the changing reader habits and a changing economic reality. When we printed 5 days a week, we had two dedicated drivers and a leased van. Reducing print frequency meant we could no longer justify this expense, and needed to make alternative arrangements. With some trepidation, I aproached Steven about delivering The Daily. "Yes" was his immediate answer. Steven and Mailing Servies have become our trusted partner to pick up the newspaper from the printer and get them to our campus distribution points. It would have been much easier for him to tell me his plate was full, couldn't take on more work, couldn't make any promises. But that's not Steven. He remains engaged in helping us reach our goals, offers help when it's needed, and works out scheduling conflicts. I'm grateful to him, and think his mindset if one we should reward, and emulate."
Diana's comments are similar to others that Steven has said "yes" to over the years. He collaborates with leaders across the UW system. Since he has delivery folks going all to locations across the UW campuses and medical centers, he is always willing to take on a little extra work, serving departments who need something delivered quickly. This includes saying "yes" when Records Management needs a quick pick up and delivery, and "yes" to moving UW Libraries' books from on place to another, and "yes" to University Bookstore to pick up and deliver staff recognition awards and "yes" to distributing PPE to departments. Again, he collaborates with many departments and individuals.
Was there anything else?
Steven is a wonderful team player. His co-workers love him dearly. He leads with good judgement, mixed with much compassion. He checks in on his co-workers daily, ensuring they have what they need to do their jobs.
When the COVID stay at home order began, Steven purchased cloth masks for the teams before the university had them stocked. Mailing Services employees are essential staff and could not stay at home. He thought to purchase and set up Plexiglass walls between incoming customers and the employees, even before retailers did. Steven set up PPE stations on the three floors of our building, and checked them every day to make sure they well stocked. He talked with employees to make sure they had masks that fit (as all heads are not the same size) and listened to employees fears and helped find solutions to keep people safer.
An RV encampment recently popped up at on the street next to our building and some employees felt unsafe coming and leaving, and Steven began to check around the building several times a day (even picking up debris and feces), made sure doors were locked (as always) and kept the Seattle PD and the UW PD informed when illegal activity was present. But Steven also became worried about the people in the encampment. It was clear that there was IV drug use, as the ground was often covered with needles, folks were passed out in vehicles, and sadly, one passed away. He deeply felt the humanity of the situation; he did what he could to alert authorities when someone in the encampment was in danger. He balanced this while keeping our department safe (including emails to staff informing them about what was going on), and checking in with co-workers daily.
Supplemental information in the Collaboration category
Steven has changed the department as an employee and now as a leader. Mailing Services department years ago was not known for being flexible and providing the best service. Under Steven's direction, the department has morphed into one of best service providers on campus. Using Lean process improvement, Steven encourages every team member to find innovative ways to do their job. Steven has created an environment that encourages ideas to better serve customers. Under his leadership the department moved from gas-powered trucks to hybrid vehicles, and now a fleet of 8 electric assist bicycle that deliver routes to the Seattle campus, and surrounding areas, including deliveries to downtown Seattle.
Supplemental information in the Career Achievement category
Steven has had a great career in this department. He started in sorting and delivery, always willing to help others on the teams. He was promoted to higher positions and is now the Assistant Director and Leader of Mailing Services. His leadership has seen good changes to increased service to campuses, including delivering items (not just mail and packages) across the UW. These items include pickup and delivery of UW Service Awards, Paychecks to Seattle and UW Bothell campuses, Library books, the student newspaper, Records and even a laptop to a UW employee's home during COVID who did transportation to retrieve it.
Also under Steven, Mailing Services took over the Mail and Receiving Department and created a Mail Store at the UW Tower, which has provided excellent service to the departments there. Steven also volunteered to be the Safety Lead and the Building Coordinator for our department, and he has made our department safer and the builing running smoothly because of his dedication.
Supplemental information in the Impact category
Steven has developed a team that uses daily huddles and idea boards to stay relevant to campus. He also has provided many Lean presentations about Mailing Services' accomplishments; these groups have been from other deparments on campus, other university Mail departments across and the State Lean Conference.
Steven is a "servant leader". He leads with humilty and is a great listener. At one of the Lean presentations, he learned from a client that UWM and the Academy sort their mail diffently. The UWM Supply Chain group had to re-sort the mail they received- this had gone on for many years. Steven met with the department to learn how they sorted, and was able to change the way his team sorted the mail for UW Medicine Supply Chain. According to Sal Ramirez (former manager of Supply Chain), this saved many hours each week with a simple change.
Supplemental information in the Diversity, Equity, and Inclusion category
Steven has a deep personal understanding of what it is like to be different. He goes out of his way to be includes inclusive, and check in with folks regularly. He is kind and listens carefully to all. He has developed ways for people to get ideas in, through daily huddles, idea boards, and just being present. He demeanor with his team gives everyone a voice and he can bring out ideas even from the shyest introvert. He works his interviewing team members to look for aptitude, not just years of experience, and a humble and service attitude as some of the important factors in a candidate.
—Katy Folk Way, Director, Creative Communications, Creative Communications, Finance