Distinguished Staff Award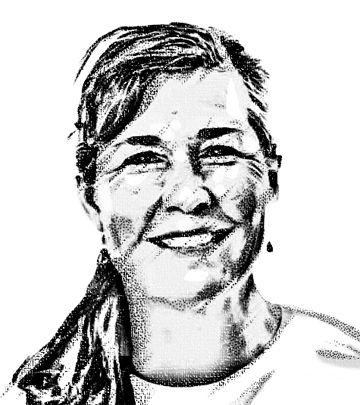 It is a pleasure to nominate Perry Acworth for the University of Washington Distinguished Staff Award. Perry is Manager of the UW Farm, a student-powered urban farm and educational facility located across three sites on the UW Seattle campus, including the Center for Urban Horticulture, Mercer Court, and the McMahon rooftop garden. The UW Farm was initiated by students in 2008 on the grounds of UW Biology; it now comprises nearly 2 acres and continues to grow under Perry's leadership. Perry initiated the process to successfully certify the Farm as a WSDA Organic operation, and continues to maintain Good Agricultural Practices (GAP) certification, despite increasing student foot traffic. This last year while Perry has been Manager, there was an all-time high of over 500 UW students utilizing the Farm for their learning, along with hundreds of community and corporate volunteers and visitors.
Perry was hired as Farm Manager in April 2018. Since then, she has been working seemingly non-stop to grow nutritious food on-campus, raise the Farm's profile across the university, and engage more faculty, staff, students, and community members in experiences related to agriculture, land use, food systems, health, sustainability, and equity. Perry chose to become a farm educator to connect urban populations to the food system; her impactful work here at the UW fits beautifully into that goal. Perry is clearly able to connect across the operations, teaching, and managerial components of her job, as highlighted in the quote below.
"I serve on the UW Farm advisory committee. I have observed a sustained commitment on Perry's behalf to cementing and extending the mission of the farm, both operationally and academically. She has created an extremely supportive service learning environment for students from across campus. She has been attentive to and effective in managing with limited staff and financial resources, working strategically with partners to develop a sustainable model that serves the various constituents." – Dan Brown, Corkery Family Environmental and Forest Sciences Director's Endowed Chair
In the 2018-2019 year, Perry and her small team hosted classes from Program on the Environment, Nutritional Sciences, American Indian Studies, Landscape Architecture, English, Biology, Geography, Sociology, Political Science, and Public Health. Almost 600 students participated in guided tours of the Farm, near 300 students engaged in over 1000 hours of hands-on Farm labs, over 185 students experienced Service Learning on the Farm, and there were 9 student interns from the College of the Environment and the School of Public Health. Here, faculty share reflections on working with Perry to enhance student learning.
"My senior lab course goes on a number of field trips, but it is the visit to Perry and the UW Farm that stands out in students' minds… Perry has helped me to craft this educational experience to be extremely useful and unique. In just that one field trip, we have students going from thinking about agriculture at a 30,000 foot level and then seamlessly weaving that knowledge together with what real food feels like, how farm workers live with the soil, and where the calluses show up first. Perry is an educational resource far above and beyond what is needed for her job description, and my class and I reap the rewards every year." – Ben Wiggins, Manager of Program Operations, Biology
"What makes a great farmer? Maybe it's the capacity to tie a clove hitch in driving rain on a dark winter night. Or, the strong calloused hands that cradle a newborn lamb guiding it to warmth in dawn light. It could be the late evenings bent over spreadsheets and planting plans. Or the moments of pure joy delight in being present to bird song, dirty hands, the smell of sweat. Perry is such a farmer and for her tireless work in production she deserves accolades. It is her dedication to the care and nurture of the most important crop of the UW Farm – the students themselves that earns her a place as one of UW's most distinguished staff members. Her care for hearts, minds, hands, and bodies of the student volunteers is stunning. There are so many times I have come to find Perry to discuss a matter of production or with a question about teaching and had to wait my turn while she explains the intricacy of transplanting, bed preparation or harvest technique with a student. She is an absolute representation of the boundless dedication that UW seeks to ignite and inspire in our students. I can think of no one more deserving of this honor." – Eli Wheat, Core Faculty, Program on the Environment; co-chair, UW Farm Advisory Committee
"It's hard to find a quote that adequately captures what a force multiplier Perry is on the UW campus. I teach a course of 150 students and we have four lab visits to the various UW Farm sites. Perry organizes these, provides educational leadership for these, and leads us in small group activities that get student's hands, bodies, and hearts involved in understanding food production and ecology and how that relates to food systems, nutrition, and health. Despite the class being big, Perry finds a way to give each student individual attention… Many students comment on how the farm experiences she leads make the course content come to life. Students state in their reflections that the experiences have changed their lives and reminded them of the importance of having connections to the soil and our food production and in thinking about the labor involved in food systems… One story in particular stands out this past year. Perry had worked with students to plant a pollinator bed in prior seasons. Because of this, an international student met and held her first ladybug! The student was surprised to learn that this was such an important aphid-eating beetle. The smile on her face said it all. And, maybe that's just it: the smiles abound when students are on the UW Farm and that's because Perry's passion for her work and for sharing her knowledge is contagious… She is a gem and I strongly encourage the UW to recognize this through a distinguished staff award!" – Jennifer Otten, Associate Professor, Nutritional Sciences Program and Department of Environmental and Occupational Health
Finally, amidst the significant student and community learning and engagement, Perry and the UW Farm produce substantial amounts of food. In the last year, Perry and her team sold over $12,000 worth of food to Housing and Food Services, hosted 98 CSA (Community Supported Agriculture) shares that generated almost $30,000, and donated near 800 lbs of produce, valued at approximately $6000 to the UW Student Pantry. The latter donation, in particular, is a product of Perry's ongoing commitment to make fresh local produce more accessible to the entire campus community.
We are grateful for the opportunity to honor Perry through this nomination; we urge the committee to strongly consider Perry Acworth for the UW Distinguished Staff Award.
—Yona Sipos, co-chair, UW Farm Advisory Committee; Core Faculty, Food Systems, Nutrition, and Health major; Lecturer, Nutritional Sciences Program, Environmental and Occupational Health Sciences
—Jennifer Otten, member, UW Farm Advisory Committee and Associate Professor and Food Systems Director of the UW Nutritional Sciences Program