Distinguished Staff Award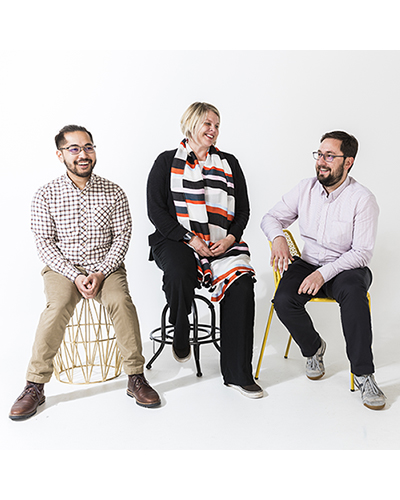 I am so proud and excited to nominate the Evans School's Digital Team for the UW's Distinguished Staff Award, in recognition of their tremendous work this year to accomplish an important special project for our school and our sector: the launch of a new online case repository and interactive teaching resources for public policy, management, administration, and nonprofit courses and instructors, called "The Hallway."
The original version of this asset, called "The Electronic Hallway," was an Evans School project that started in the mid-1990s and has long served as an important online repository of teaching case studies and teaching tools to support instructors of public policy, management, public administration, and nonprofit-related subjects in colleges and universities across the country. At the time it was launched 30+ years ago, the Electronic Hallway was the only platform serving faculty nationwide with case studies and management education materials in these fields. For many years, it was the "thing" the Evans School was most known for before we emerged as a top ten school. The Electronic Hallway has long been a service the Evans School has provided to the field – but in recent years became in dire need of a massive update and upgrade.
When I hired Molly Jay in 2015 as the Evans School's first Chief Digital Officer, I asked her to move a handful of mountains for our school. One of these was a complete overhaul of the Evans School's outdated Electronic Hallway.
Molly scoped out the requirements of this project and secured three bids for the redesign: the most cost-effective was $180,000 plus annual support and maintenance fees. Knowing such a significant cost was beyond the school's budget, Molly gathered her small team and asked if they wanted to scale a mountain with her. And with that, they enthusiastically got to work.
Together with her team, Molly imagined a re-envisioned and updated tool to apply advancements in case teaching methods, media, and web standards to the existing body of case teaching resources. She saw the opportunity to create a lightweight, simple web-based repository for case studies that also allowed instructors to control serialized access when they shared the content out to students. Moreover, Molly saw the opportunity to create an attractive and accessible experience for learners and instructors, and an interface that is easy to use with any device.
Over the course of ten months, the prestigious yet outdated case repository was transformed from its 1996 model to a scalable, revenue-driving, multimedia platform thanks to the creativity and dedication of Ian Gonzalez (above photo, left), John Compton, and Molly Jay.
The technological expertise of lead developer Ian Gonzalez, the project management and user-experience focus of John Compton, and Molly Jay's overarching vision and leadership made for a team that was truly in step with one another. Together, this small but mighty team launched the new "Hallway" in October 2018 with a sleek new user interface, entirely new capabilities, and permission-based usability, described by Evans School faculty member Steve Pages as a "quantum leap over the previous version." (www.hallway.org)
This innovative redesign was done entirely in-house by this team of three Evans School staff members, saving the school more than $180,000 in outside vendor costs. In addition to this important cost savings, the new platform has already attracted national attention, leading to a first distribution deal with SAGE Publishing.
The effort and dedication Ian, John, and Molly poured into this project successfully addressed a number of stakeholder needs and limitations of the previous model:
Historically, cases were stored in the Electronic Hallway as static PDF files, which act as a constraint on the use of rich media and limit the possibility of immersive or authentic experiences for students and classrooms.
Case studies are taught in a serialized manner: students are exposed to the narrative of a case one piece at a time. The old PDF format did not serve this form of teaching in a clean and simple way. Case parts often had to be distributed by hand in hard copy, or via multiple PDF uploads which could get lost or miscommunicated.
The available online tools required registration and login authentication for the end users (students) which served as a barrier and created tech issues in the classroom—often leading to class disruption, mistakes, and wasted time.
Today, the Hallway's features include:
Interactive case studies. No longer confined to static PDF documents, users can now upload supplemental multimedia learning materials such as videos and photos.
The ability to lock/open case sections. Instructors can quickly and easily control what their students see as they move through a case study.
Robust search functionality. Users can search by author, topic, keywords, category, title, and everything in between.
Seamless user experience. Case assignments now use a single URL that is shared with students. No more juggling multiple PDF documents or sending multiple emails with updated information.
Anytime, anywhere. The new Hallway is mobile-ready so users can utilize the Hallway any time they want, wherever they are.
The new Hallway serves the existing needs of case teaching, but also opens the door for new case content that can better facilitate innovative classroom methods. This could include interactive data dashboards, team-specific case content for adversarial activities, and other teaching frameworks that would be enhanced by rich media content.
Molly, John, and Ian have done the Evans School a tremendous – and lasting – service by taking on and completing this project with such above-and-beyond dedication. And they brought the Evans School back into a leadership position among our peers once again by supporting the educational experience of the next generation of public leaders across the country, and beyond.
Thank you for serving on the selection committee this year, and for allowing me the opportunity to reflect upon and share with you the selfless dedication Ian Gonzalez, John Compton, and Molly Jay demonstrated this past year through the completion of the Hallway – a project that is significant to our school, to our field, and to the future of public service leadership.