UW Combined Fund Drive
July 26, 2023
Strategies for encouraging summer reading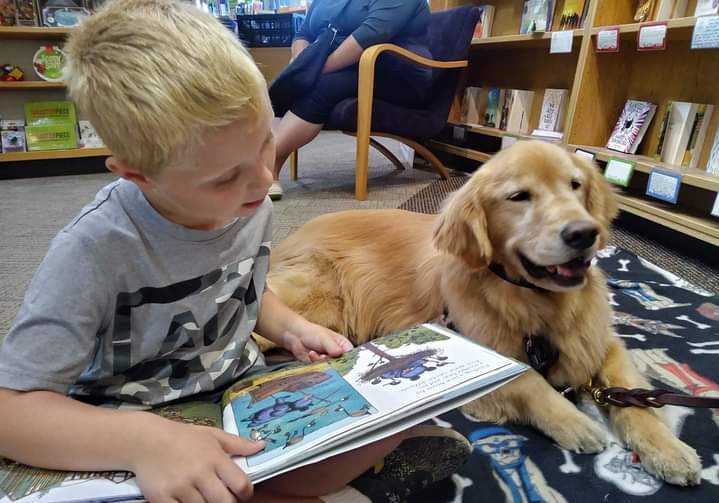 School's out, and summer in Seattle is in full swing. The days are long and pleasant, and activities abound. But how many kids are following their teachers' last day advice to read every day of summer?
"Reading is a skill that can atrophy over the summer," says teacher John Martin, founder of Seattle-based nonprofit Boys Read. "The effect is cumulative: the more summers without reading, the wider the gap each year."
The American Library Association says summer reading programs, encouraged by parents and caregivers, teachers and librarians, benefit kids by:
encouraging a lifelong reading habit
drawing in reluctant readers with engaging activities
keeping skills up during summer break
generating interest in exploring books
What should your child be reading?
The most important thing is for kids to read, so what they are reading is secondary. If you have a less-than-enthusiastic reader, remember: format doesn't matter. Graphic novels, manga and comic-book style writing (think of anything by Dav Pilkey) are wildly popular – and for good reason. Many of these books are thoughtful, funny, well-developed stories that end up on best books of the year lists.
Related: How to raise a reader (New York Times)
Check out 10 Weeks of Summer Reading Adventures for You and Your Kids from nonprofit Reading Rockets and Summer Reading Field Trips from nonprofit Reading is Fundamental.
Here are some ideas to get kids of various ages started, compiled from Bright Horizons and PBS Kids:
Join the summer reading challenge at your local library.
All Summer of Learning participants and their families are invited to join a FREE end-of-the summer celebration at the Burke Museum of Natural History and Culture on the UW campus! Walk, ride your bike, take the light rail or drive (parking is free!) on Sunday, August 27, 2023 from 10 a.m. to 5 p.m. and join us for a fun day of activities at the Burke!
Scholastic: Three Things Education Experts Do to Keep Kids Learning in the Summer
Engage your kids in vacation planning. Any reading is worthwhile, including researching hotels, fun activities, historical sites and restaurants for your upcoming vacation.
Related: Support literacy in your community
Make a bucket list, listing any activities, events, or destinations you'd like to do this summer closer to home. Then look in your library and online for books that may overlap with those ideas.
Look for more of the same: When your child does find a book she likes, use that as a springboard to find more books she'll willingly read. For non-series books, ask your librarian for a recommendation, or check out the Scholastic Book Wizard database.
Pick up a variety of books to have on hand: at a local book sale, yard sales, Little Free Libraries, and of course, your local library.
Interested in starting your own little free library box? You can buy pre-built kits from the nonprofit that started the movement and support their Read in Color and Impact Library Programs. Or, you can donate books to a little free library near you with their searchable map.
Listen to a storytime podcast: Grab headphones or connect a speaker to listen to a storytime from anywhere. Podcast episodes are free to stream and download, but some do feature advertisements or commercials. To get started, just search the "Kids & Family" category in your phone's podcast app. Julie's Library, hosted by Julie Andrews, is a favorite.
Go on a StoryWalk: Our public parks offer StoryWalks, an outdoor reading experience that gets us moving and excited to see what happens next in a book. A children's book is deconstructed and its pages are laminated and placed on stakes or kiosks along a walking trail. If these aren't offered where you live, put your personal spin on it. Load up your wagon with kids and a favorite book, and plan pitstops around your neighborhood for reading parts of the book.
Read aloud, particularly with younger children: Kids who don't like to read to themselves may still enjoy being read to. Exposing kids to text that's more complex than they can read themselves can improve their comprehension skills.
Keep short articles, magazines, and small paperbacks in your car or downloaded on your phone or handheld device for those in between moments in the car.
Spend time researching titles with your child and on your own, looking at websites like Good Reads, the American Library Association's Booklist, and Common Sense Media.
Download audio books from Audible.com or your local library (for free!) for road trips or for even short rides to and from daily summer activities. While not technically reading, listening to books can open the world of literature up to more reluctant readers.
Most importantly, let your kids see YOU reading. Helping your student establish a love of reading might reignite or inspire you to read more.
Campouts, sleepovers, car rides, lazy days at the beach, lake or poolside, playing sprots or with friends—whatever your kiddo is doing this summer, make sure they've packed something to read!
Support
Consider supporting one of these UWCFD nonprofits through payroll deduction to encourage and support youth literacy in our communities:
Camp Read-a-rama (charity code 1482952): Camp Read-a-Rama is a nonprofit that uses books for children and young adults as the springboard for all program activities. We provide fully-engaged year-round programming that seeks to improve literacy, particularly for children most in need of literacy intervention.
Deaf Children's Literacy Project (charity code 0524378): Most deaf children are behind in English language and literacy. Reading opens the door to their future. Give them the power of English to succeed.
KCLS Foundation (charity code 0315694): The KCLS Foundation promotes literacy, learning, and libraries by providing support beyond public funding for initiatives and resources that enable the King County Library System to better serve the needs of our community.
Pierce County Library Foundation (charity code 1480040): Pierce County Library Foundation is the philanthropic arm of the Pierce County Library System. The Foundation raises funds to support innovative literacy programs, outreach services and expand the library's collection of books and resources.
Raising A Reader: Raising A Reader is an early literacy organization helping families of children aged 0-8 develop, practice, and sustain home-based literacy routines critical for school success.
Seattle Public Library Foundation (charity code 0329910): The Seattle Public Library Foundation raises funds to provide additional Library resources, programs and services that go above and beyond what public funding provides and enables the Library to be a vital, relevant community resource for everyone.
Sno-Isle Regional Library Foundation (charity code 0335433): Whether promoting early literacy, enhancing the library collection, facilitating discussions about important issues, or bringing the library to the doorsteps of seniors and people with disabilities, the Sno-Isle Libraries Foundation helps make libraries an accessible resource for everyone in the community.
Contributed by Nicole Reeve-Parker