Administrator guide
In the Online Work/Leave System (OWLS), the role of the administrator is to oversee all employee leave records for a department.
As an administrator, you are authorized with inquiry-only access to all records in your department's Payroll Unit Code (PUC). If you have questions or concerns about an employee's OWLS record, you will need to contact your unit's timekeeper.
To log in to OWLS, you will need your UW NetID, password, and SecurID. Both the UW NetID and the SecurID are obtained from UW Technology.
OWLS is intended for use by authorized employees only, and authorization for use is solely at the discretion of department management. In order to protect the privacy and integrity of the records in OWLS, you must log out or password-protect your computer screen whenever leaving your desk.
To view a list of all employees under your department's PUC, you will need to log in to OWLS as follows:
1. Navigate to the OWLS home page and click on the "OWLS Login" button.
5. The OWLS disclaimer regarding appropriate use of the system will appear. Once you read and understand it, click the "I agree" button to enter the OWLS main page.
In order to obtain OWLS administrator access, you will need to submit a request through the online OWLS access form.
Problems logging in? Your SecurID may not be synchronized with OWLS. Please contact UW Technology to synchronize your SecurID.
After logging in to the Online Work/Leave System (OWLS) and selecting an employee record, the calendar screen will appear. Clicking on the various tabs across the top of this screen allows you to view other informational screens for this employee.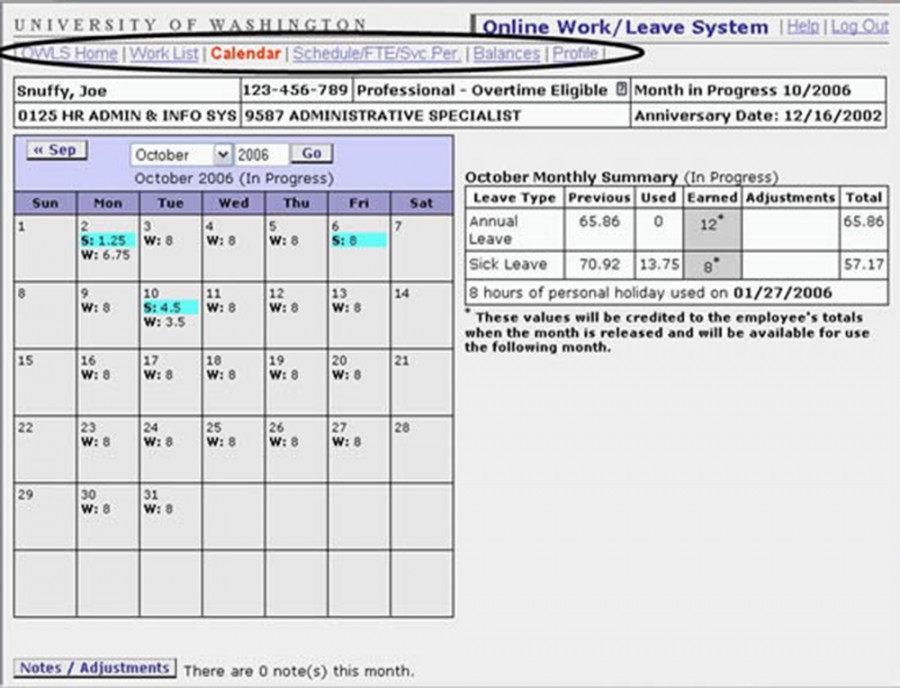 OWLS Home
Clicking on the OWLS Home tab will take you back to the Home page where you can choose an employee record or run a report.
Work List
The Work List tab displays a list of all active employee records in your PUC. The Work List is created when you log into OWLS, highlight your PUC, and click "Next" without entering an employee name or EID. Clicking on the Work List tab from within a record will return you to the list of records to choose another employee's record.
Calendar
The daily work and leave hours are entered by your unit's timekeeper in the calendar view of OWLS.
There are various codes used for work and leave entry. If you are unsure what a code stands for, please review the chart in the Making Calendar Entries section in the Time Keeper's guide.
Schedule/FTE/Service Period
An employee's work schedule, FTE, and service period are displayed through this tab.
Balances
The employee's monthly leave accruals, use, and balances of paid leave are displayed through the Balances tab. Clicking on a month allows you to view the calendar entries for that month.
From this screen you are able to create a printable yearly summary (see below for more information).
Profile
An employee's anniversary date, UW hire date, annual leave accrual month, months of leave without pay, probationary or trial period dates, months of prior service credit, and name of supervisor(s) are displayed through this tab.
Because administrator access is read-only, any errors, discrepancies, or questions about an employee's OWLS record should be directed to your unit's timekeeper.
Administrators have the ability to view employee records and perform the following actions:
Run an OWLS report
Create a Yearly Summary
The Online Work/Leave System (OWLS) allows you to run a simple report for active records in your unit.
Timekeepers and Administrators can run an OWLS report for their Payroll Unit Code(s) (PUCs) that shows the leave balances of every active employee.
Supervisors can run an OWLS report that shows the leave balances of every active employee for whom they are designated as supervisor.
An OWLS report will allow you to do the following:
View leave balances as of a particular month's end
Export the report to HTML or MS Excel
Sort the results by Employee Last Name or EID
Currently, the report feature reflects completed and submitted calendar months. When selecting a particular month, the list of names will reflect only those active employee records that have been submitted through that month.
For example, if you are running a report for June, and an employee's record is updated only through April, that employee's name will not appear in the report.
All report data is generated on a nightly basis. Any changes made to an OWLS record will not be reflected in the report until the next day.
To run a report, take the following steps:
If you choose to create the report in HTML, the report will open in a browser window.
If you choose to create the report in EXCEL, a "File Download – Security Warning" should appear that asks, "Do you want to open or save this file?" Clicking "Open" will open an EXCEL file. Clicking "Save" will allow you to save the report to your computer.
An employee may have prior Online Work/Leave System (OWLS) records if the employee has worked for another UW department, held another position in your department, or if the employee's position has been reclassified. These prior OWLS records are not deleted and can be accessed.
To access an employee's prior OWLS record(s), open the OWLS home page and take the following steps:
You will see the record(s) for the employee.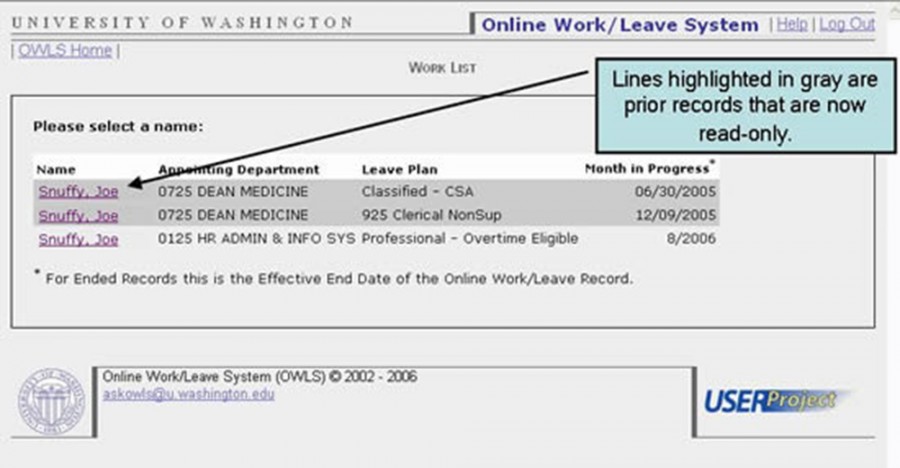 You can also access an employee's prior OWLS record(s) from the employee's current OWLS record. In order to do this, take the following steps:
OWLS can provide an at-a-glance yearly summary of an employee's leave record. In order to show a summary, at least one month must be completed in the summary selected.
This is helpful for a variety of reasons, particularly for determining if an employee has worked the required hours for FMLA eligibility, and for producing a document that can be signed.
In order to generate the yearly summary, open the employee's OWLS record, and take the following steps:
This will generate a PDF. Click here to see an example of what this document will look like.
Print copies as desired. Only the months that have been submitted will be displayed. Months in progress will not show up in the yearly summary.